New Years Eve Beach Ball Drop
United States, Florida, Panama City Beach / December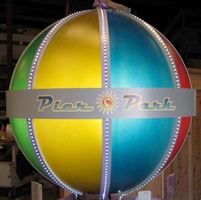 New York isn't the only one with a New Years Eve Ball Drop. While the commonality between a giant Waterford Crystal and an 800-pound beach ball is not obvious, on December 31, Panama City Beach, Florida embraces its seaside roots with an annual Beach Ball Drop hosted by Pier Park. Ring in the new year with Panama City Beach.
The 800-pound glowing beach ball begins the more than 100-foot descent just before midnight on December 31. Pier Park festivities, free and open to the public, begin at 5:30 p.m. with family-friendly entertainment. Kids beach ball drop at 8:00pm.
The countdown celebration takes place from 8:45 p.m. to 1:00 a.m. when streets will be closed to traffic. In addition to the highly-anticipated beach ball drop, guests will enjoy live musical performances.

Video
2009 New Year's Eve Beach Ball Drop in Panama City Beach, Fla. from Panama City Beach Florida on Vimeo.

Contact Info - New Years Eve Beach Ball Drop
Address: 600 Pier Park Drive, Panama City Beach, Florida, United States

Google Map