Koko Head Crater Walking Trail
United States, Hawaii, Honolulu
Web: http://www.hawaiistateparks.org/parks/oahu/index.cfm?park_id=15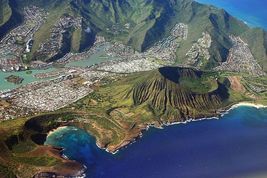 On the east side of Oahu in the Hawaii Kai neighborhood. Koko Crater is a massive cinder cone that visually dominates the area. Its peak rising to 1208 ft or 368 m in about 1100 or 1K. Within the crater are horse stables and the Koko Crater Botanical Garden specializing in cacti and succulents. One can hike from the Koko Head District Park at the bottom of Koko Crater to it's summit. The top of Koko Crater provides an incredible 360 degree view of eastern Oahu and the Pacific.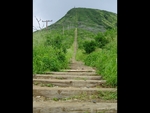 The hike can be broken into three parts: the gradual slope at the beginning that goes for about three-quarters of the journey, the steep ascent up the final leg, and the rickety bridge that connects the two. The steps heading up the entire summit are made up of rail tracks and realroad ties. There is a 30 foot rail bridge that can be a bit challenging for some people.
Note: Koko Crater is not the same as Koko Head which is in another location close to the Hanauma Bay and Portlock area of Hawaii Kai. It peaks at 640 feet. Adding to the confusion, when parking the name of the park is called Koko "HEAD" District Park.