Atlanta Dogwood Festival
United States, Georgia, Atlanta / April
Web: http://www.dogwood.org/
Email: dogwood@rivalentertainment.com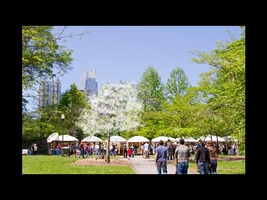 An Atlanta staple for more than 75 years, there is something for everyone at the Atlanta Dogwood Festival. Virtually every kind of art imaginable is represented at the festival, with a nationally renowned-juried Fine Artist Market that includes sculpture, paintings, pottery, jewelry, photography and much more.
In addition to the fine art for adults and art collectors, there is a Kids Village featuring huge inflatables, arts & crafts and face painting for all ages, as well as the ever-popular 24-foot rock-climbing wall.
Sponsor booths are located throughout the Festival that will have everything from live radio remotes to great prizes and interactive games. No pet dogs are allowed at large outdoor events like the Atlanta Dogwood Festival, according to City of Atlanta ordinance.
Music has become an essential feature of the weekend's festivities, and this year will be no different! A wide array of diverse musical offerings will fill the springtime air throughout the weekend! The full schedule of music and entertainment will be announced later. And when you get hungry, follow the delicious smells, of funnel cakes, gyros, crab cakes, onion rings, kettle corn and much, much more!