Urquhart Castle
Scotland, Inverness, Urquhart
Web: http://www.historic-scotland.gov.uk/propertyresults/propertyoverview.htm?PropID=PL_297
Email: Info@TravelAndAppetite.com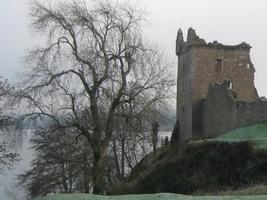 Urquhart Castle sits beside Loch Ness in Scotland along the A82 road, between Fort William and Inverness. It is close to the village of Drumnadrochit. Though extensively ruined, it was in its day one of the largest strongholds of medieval Scotland, and remains an impressive structure, splendidly situated on a headland overlooking Loch Ness. It is also near this castle that the majority of Nessie (Loch Ness Monster) sightings occur.
The earliest history of the castle may begin in the time of St. Columba in the 6th century. One of the radiocarbon dates obtained within the castle was in the range 460-660 AD.
The castle ruins are open to the public with breath-taking views of Lock Ness.