Skyline Chili
United States, Ohio, Cincinnati
Web: http://www.skylinechili.com/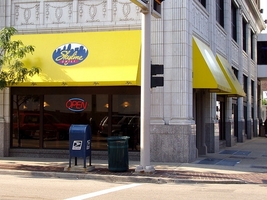 Cincinnati-style chili is a sauce usually used over spaghetti or hot dogs, containing a unique spice blend that gives it a very distinct taste. Officially, the recipe for Skyline Chili is a well-kept family secret, but many Skyline patrons and Cincinnatians believe that the unique taste of Skyline Chili comes from chocolate and cinnamon, spices common in Greek cuisine's meat dishes.
Skyline's menu includes their signature dishes: cheese coneys (a hot dog topped with Skyline Chili, mustard, onions, and cheese), and 3-ways (spaghetti topped with Skyline Chili and cheese; 4-ways (choice of beans or onions added), and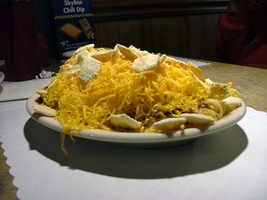 5-ways (beans and onions both added). Additional menu items include burritos made with Skyline Chili, classic and Greek-style salads, french fries, and baked potatoes topped with Skyline Chili.
Skyline Chili operates over 100 restaurants in Ohio, Indiana, Kentucky, and Florida. The restaurants may be considered somewhere between "fast food" and "casual dining." Diners may sit at a booth or table and be served by a waiter, or at many locations, sit at a counter near employees preparing the food. At all restaurants, dishes are assembled at a centrally located service island so diners may watch their food as it is made.