Checking Out Of A Hotel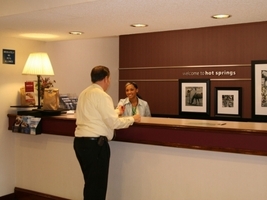 If you thought you were done saving money, think again. There are ways to save even more money when you are ready to check out of your hotel. From double checking your bill, to disputing a service that didn't meet your expectations.
Checking out: Make sure you have a physical printed statement from the front desk that is handed to you by the clerk. Don't use the TV to checkout, but use it to review the room charges. The receipt that is slipped under the door is used only to mark changes on when presenting disputes. Even if it allows for a quick checkout, Still turn it into the front desk and have them print out a new hard copy receipt. Having physical proof that you are officially checked out, is what you need for various possible disputes after you leave.
Double Check Charges: Always double check the charges! There is a lot of room for human error. Also, check the charges against what was included in the room reservations. Many times, some included items are suppose to be removed at checkout and mysteriously they still exist on the statement. Occasionally, movie charges and items from a frig could creep into a bill. Items that you never used.
Dispute anything: If you feel something isn't right, dispute it with the front desk clerk or talk to the manager. If you still are not satisfied, be prepared to ask for compensation in various forms:
Removing the resort fees (This cost a hotel very little)
Removing other fee's or services on the bill (parking, etc..)
Add additional member reward points if you are a Hotel rewards member.
Removing the cost of one night's stay
If your really upset, call the rewards member hotline, if your a member. They may be able to work out compensation for you. Fees and points don't cost the hotel any real money and they usually don't have a problem giving these out.
Removing Internet fees: Use a smartphone app to measure the hotel's "High Speed Internet". Measure your high speed rate at your home or work, then when measure the speed at the hotel. In almost every case, the speeds will extremely slower at the hotel. At checkout show the clerk the difference and tell him, "Here is the High Speed Internet at my house, here is your hotel, it is anything but High Speed here. I selected this hotel for the High Internet Speeds.". They typically will remove the $10-$25 a day internet charges.
Be honest: If you are asked at checkout about your stay, be honest. It is the only way they get things fixed or for a hotel to understand how your stay was. Many hotels have a log book for front desk clerks to log guest impacting issues.