Hotel Fees And Taxes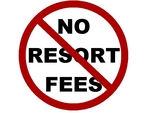 Be aware of all the possible different taxes that are assessed in staying at a hotel. The newest one being seen is the TBID Tax. We'll tell you more about the TBID Tax below, but a simple google search for "[city] hotel tax" should let you know what each city charges. Some are .50 cents to $10.
Hotel / Resort Fees: Hotels apply this fee in an attempt to claim that it is for high-speed Internet access, a newspaper, unlimited local calls, boarding pass printout, TV, mini-bar, housekeeping services, grounds upkeep, use of a exercise room, bellhops, concierge, to luggage storage. It is merely an attempt to extract more money from guests. They are usually around $10-$30 a day and some very high-end luxury hotels charge 10% a day. It all depends on the hotel. Always check what the fees are. You may get a great rate, but the price is made up in the fees.
Room Occupancy Tax: A Room tax can be made up of 3 separate room rental taxes: State Sales Tax, City Sales Tax, and Hotel Room Occupancy Tax (usually called the "Hotel Tax"). Each city and state are different.
Tourism/Marketing Tax: These taxes are suppose to go towards promoting tourism. You pay, so the city can advertise to bring more people like you into their city. (You pay, so they don't have to)
TBID Tax: TBID's are a self-assessment by the lodging industry for the purposes of promoting the destination and increasing their business.
Parking: Valet parking or even self-parking can have fees from $10 to $50 (in downtown areas like San Fransisco) a day depending on the city.
The Bar Charges Room Service: Many hotels are now charging a room service fee when food is ordered at the bar. They use the excuse that the bar doesn't have a kitchen and it needs to be delivered by room service. Ask before you order any food at the bar, if there will be any additional delivery charges.
Room Service Gratuity: Always review the room service bill to see if an automatic gratuity was added, before writing in any tip. Some hotels add an extra line on the bill to try and get guests to double tip.
Hidden Fees: If you're not using the service you're being charged for, ask to have it removed from your bill. Some hotels remove fees for safes, business/fitness centers, newspapers, and gratuities from your bill. The practice of "negative option billing" -- the legal name for fees billed without your express permission -- is based on the assumption that you've used the service and have therefore implied you agree to the charge. If you don't and haven't, the hotel should remove it from your bill.
You Have Rights: Be aware of your rights. According to federal law, additional fees should never be a surprise. Hotels must post information about such fees "clearly and conspicuously." What "clearly and conspicuously" means in practice is in the eye of the beholder, but if extra fees aren't clearly stated in the reservation conditions when you book online or over the phone, you should inform the hotel they are violating the law and politely but firmly ask for the charges to be removed. Obviously, you now need to read the fine print conditions when you book online. If booking over the phone ask if any extra fees are billed when you book over the phone, and get the grand total price of the stay.