AIA Sand Castle Competition
United States, Texas, Galveston / June
Web: http://www.aiasandcastle.com/index.html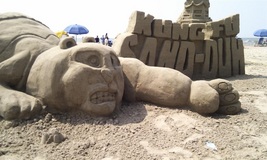 The annual AIA SandCastle Competition takes place on Galveston's East Beach. Come see how piles of sand magically transform into imaginative sculptures. For over two decades on the first Saturday of June, teams of architects, designers, and engineers have taken their tools to East Beach in Galveston for what is considered one of the worlds largest sandcastle competitions. The Houston Chapter of the American Institute of Architects (AIA) has been organizing this competition every year since 1986.
Over 60 teams have their eyes and shovels set on winning the prestigious Gold Bucket Award. Firms begin months in advance generating ideas, developing designs, and assigning duties. On the day of the event the teams, stretched along the beach front, meticulously sculpt their piles of sand and work non-stop for five hours.
The judging of all sculptures is rated on originality of concept, artistic execution of the concept, technical difficulty, carving technique, and utilization of the site. In addition to the Gold Bucket, best team t-shirt design, best team signage, best costume, and public favorite.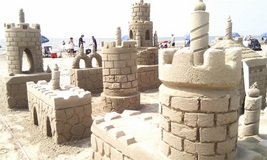 Awards are given in 8 different themed categories:
1. That's Entertainment (Best theme with movies, TV, commercials, etc.)
2. Let the Games Begin (Best theme with a sport or sporting event)
3. Stars and Stripes (Most Patriotic theme)
4. Most Complex (Most attention to detail and artistry)
5. Best Traditional (The most traditional sandcastle)
6. Best Architectural (Best sculpture relating to architecture)
7. Most Hilarious (The funniest, most comical)
8. Most Lifelike / Realistic (Most realistic rendition of a person, plant, animal, mineral, or object)