Barone's Famous Italian Restaurant
United States, California, Valley Glen
Web: http://baronesfamousitalian.com/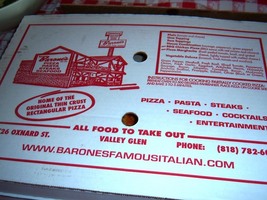 Founded in 1945, serving southern California's first rectangular, Neopolitan style pizza. Not many places can put claim the word "Famous", but Barone's truely can. There is such a loyal following that locals are what make it famous, and they have been 67 years. Why? The Barone's salad and the rectangular pizza. Together it is a memorable combination.
The salad is made with there own secret recipe, and while they have made it creamier than the oil based in the past, thankfully the original flavors still shine through. Don't forget to purchase a bottle on your way out.
The pizza is very unique and best of all consistant every time forover half a century. There is no other Pizza with their unique taste and is served the way Barones makes it. Line any pizza up against it, and if you have had Barone's once, you will always know when you are eating a Barone's pizza.
It is a thin crust style, but soft in the beginning and as you get closer to the end you reach a crispy crust. What makes this extra special is that they place the toppings on before the cheese. This keeps in all the flavors and juicies from the toppings. The cheese is layered proportional to the rest of the pizza so you don't get a mouth full of cheese but a well balanced pizza.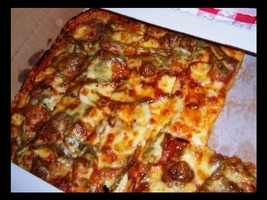 Some say there are worderful powers within the food at Barone's. In the late 1950's a couple went to Barone's on their first date. The couple was married not long afterwards and had 2 children. Their first born, not realizing went to Barone's on her first date as well, and not long after the two were married. By 1992 the couple's son swore never to take a girl to Barone's on a first date. But on one particular occassion, he decided to make a girl a homemade meal for their first date. Since he was such a bad cook, he decided to use a bottle of Barone's salad dressing he had purchased a week before on the salad. Yes, they are still married to this day.