Restaurant Grace
United States, Maine, Portland
Web: http://www.restaurantgrace.com
Email: SABINBECKWITH@RESTAURANTGRACE.COM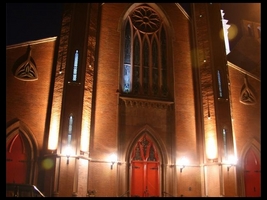 A restaurant that is no ordinary church. Grace exists within a renovated Methodist Church, Circa 1856 that was built before the civil war. Patrons dine where you would expect pews to be, and the kitchen sits below the organ. No matter what your belief, you will want to try a "Holier Than Thou" or refreshing "Divinity" from the circular bar tht rests below the vaulted ceilings and beautiful stained glass windows.
Their menu combines classic dishes with modern culinary technique & local flavors.
There are 27 stained-glass windows, including a 150-year-old rose window thought to originate from Florence. There are period fixtures, including immense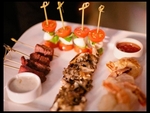 chandeliers with oblong lights suspended from the ceiling, and two brick-lined turrets that look as if Quasimodo could be hiding in them.
For a romance that feels as miraculous as turning water into wine (the diverse wine list covers form California, Europe, Australia to South American). Grace is one of Portland's primary destinations.