Ted Drewes Frozen Custard
United States, Missouri, St. Louis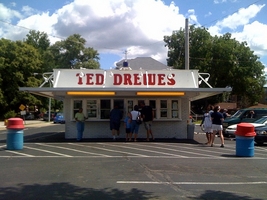 Ted Drewes Frozen Custard establishment is an institution and a St. Louis icon, a place to mingle, a paradise on those hot summer nights. Ted Drewes custard is made with honey. The hot fudge sauce is one of a kind. They are famous for their concretes. A concrete is similar to a malt, but so thick you can turn the cup upside down without any of the contents spilling out.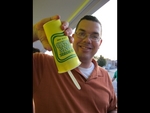 They serve ONLY vanilla custard in any variety of flavors with all kinds of toppings that can be combined. If you want Pumpkin pie concrete, no problem, they'll slice a piece and mix it in. Or go with the typical whipped cream, nuts, fruits, candies, the possibilities are endless.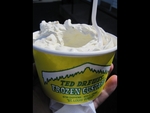 Ted Drewes Frozen Custard opened in 1930 in North St. Louis city. He'd learned to make custard while working a carnival in 1929. He moved his business to south St. Louis in 1931, and the South Grand Avenue location became his flagship store.
As the ice cream business dies down in November, the store remains open and sells real Christmas trees through the holidays. At Christmas they actually sell Ted Drewes cups filled with real concrete and a gift certificate. The store closes in January, but reopens in February.