BayFest Music Festival
United States, Alabama, Mobile / October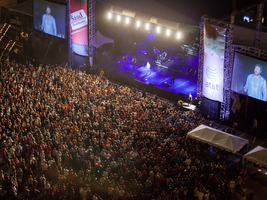 An expected crowd of more than 200,000 guests, who will make merry in the streets of Downtown Mobile and see over 125 live musical acts on nine stages during the weekend.
Having grown substantially from a debut crowd of 50,000 in 1995, BayFest has become known for its vast array of renowned musical talent that appeals to a wide variety of audiences and is suitable for the entire family. Since BayFest's beginning, acts such as B.B. King, Hootie & the Blowfish, The Temptations, Widespread Panic, Keith Urban, Kid Rock, Ludacris, Travis Tritt, Velvet Revolver, LeAnn Rimes, Nelly, Alan Jackson, Anita Baker, Stone Temple Pilots and hundreds more have performed on BayFest stages.
BayFest offers continuous music for every taste, including country, classic rock, alternative, pop, jazz, R&B, rap, gospel, modern rock and more. One of the festival's stages, the Launching Pad, is specifically designed to spotlight local and regional talent and showcase acts who aspire for musical greatness. The event also includes a family activity area that has garnered rave reviews in and of itself. All of this is offered at a price that is less that what most individual concerts cost!