Tu Tu Tun Lodge
United States, Oregon, Gold Beach
Web: http://tututun.com/
Email: lodge@tututun.com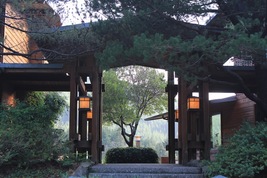 A hotel you actually pay to have a lack of amenities. At Tu Tu Tun it is all about relaxing. You will not find a TV in your room or anywhere in the lodge, most cellphone service providers will not reach the area, and while there is an internet connection in the lobby, it won't reach your room.
The lodge is 7.5 miles off HWY 101, but because the road is tight and very winding it can take up to 20 minutes to get there. Drive safe at night, there are no street lights.
So what is one to do, slow down and relax. The experience can be different depending on when one goes during the high season or off-season.
During the high season summer months, the lodge can be booked up 6-9 months in advanced. Take a swim, hike, or take a river boat right that stops on the shore of the Lodge. Fine dining is available at the lodge for breakfast and dinner.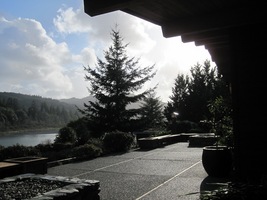 During the off-season in the winter months, rooms will most always be available. River boats will not be running, and it will most likely too cold for swimming. What's left is reading and relaxing. It can be a crisp 36-42 degrees, so the in-room fireplaces are a welcome site, as well as the heated floors in the bathroom. The dining room most likely will be closed for dinner seating (and typically tell guests at the time they make reservations), but is open for breakfast. Keep in mind that the drive into Gold Beach and back can take up to 40 minutes.