Full Of Life Flatbread
United States, California, Los Alamos
Web: http://www.fulloflifefoods.com
Email: info@fulloflifefoods.com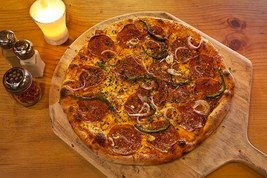 Located on the Central Coast of California surrounded by organic and sustainable farmers, ranchers, wine and food artisans Full of Life Flatbread produce a line of award winning frozen Flatbread Pizzas which are distributed nationally. Each of the Flatbread Pizzas are hand made in California in small batches in their own facility by artisan bakers that they work with each day. To ensure their food's integrity and security, they source the majority of their ingredients from family owned and independent farmers, millers, and food artisans within a 400 mile radius who practice Earth-friendly, humane and sustainable, techniques. They never outsource. Full of Life Frozen Flatbread Pizzas are available nationally.
Each weekend evening they convert their production bakery into a restaurant and open up to the rural community and the public. Surrounded by farms, vineyards, ranches, and the Pacific Ocean, offers them a never ending source of raw-ingredients for their frozen pizzas and weekly restaurant menu. There are no reservations taken and the customers gather quickly. Expect to wait.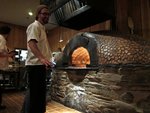 Owners, Clark Staub & Chef Dylan Fultineer comb the local farmers markets and talk with local farmers, ranchers and fishermen during the week to develop the weekend menu. Each menu item is made from scratch from ingredients delivered fresh from local farms. Most of the food is baked on the hearth or in the coals of our wood-burning oven.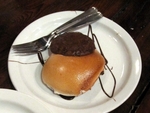 While flatbread is most known for their pizza, they do make the Los Alamos S'more that can't be found anywhere else on the planet that is homemade marshmallow oven-roasted with Chocolate Espresso Cookies and Chocolate Sauce.
The one size large pizza's are thin crusted an very easy to enjoy. Don't be surprised if one pizza isn't enough for just a single person. When ordering multiple pizzas they can be stacked 5 high for all to enjoy
Full Of Life Flatbread firmly believe to Eat Good Food is to be Full of Life!
Video