Gardens Of Tasco
United States, California, West Hollywood
Web: http://thegardensoftaxco.com/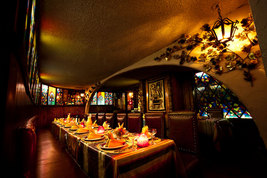 Since 1971, the Gardens of Taxco has built its reputation on consistently providing the best Mexico-City style cuisine in Los Angeles. The unique five course dining experience begins when the menu is presented verbally; combining details about the entrees with colorful signature sayings such as "born in the sauce" and "Not hot, spicy". Choose the type of protein you want for your entree. There are 16 different entrees to choose from (4 beefs, 4 shrimp, 4 chicken and 4 pork dishes).
The singing/reciting of the menu by the waiter is an entertaining experience in itself. The chips and salsa are perfection. They often serve pickled vegetables before you order and the other appetizers are available: quesadilla with guacamole, enchilada or taco, and albondigas soup is perfect on a crisp Los Angeles evening.
The understated decor and festive atmosphere will transport you to a fine home in Mexico City.
The Margaritas are a must. Don't be fooled by the size of the glass. This deliciously smooth easy-to-drink Margarita sneaks up on you, FAST! No one has yet to discover what this unique combination of ingredients has in it.
TIP: Go on a weeknight to take advantage of their "Early Diner Discount": 5 course meal for $14.95 (excluding tax, tip, and liquor). However, you will need to print and bring their online $14.95 coupon and eat there Tues-Fri before 7pm. One coupon is good enough for up to a party of 10.