Cheerwine: Nectar Of North Carolina
United States, North Carolina, Salisbury
Web: http://www.cheerwine.com/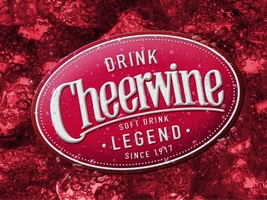 It's a Carolina thing! Created in 1917 in Salisbury, North Carolina by a general store owner named L.D. Peeler, this singular soft drink with a hint of wild cherry and a bubbly effervescence became an immediate hit. Folks from all around the county came to LD's store to give it a try.
Soon cold cases all over North Carolina were filled with the "Nectar of North Carolina." It was known to put a smile on everyone's lips who gave it a try, and the Legend was born.
Generations later, the Legend has grown larger than life. Family and friends in every state of the Union clamor for this taste that always surprises. Cheerwine is regularly spotted in such far flung places as the great wall of China. The fjords of Northern Europe. The battlefields of Iraq.
Cheerwine is can be found in floats, Krispy Kreme donuts, and cupcakes.
Video
Contact Info - Cheerwine: Nectar Of North Carolina
Web:
http://www.cheerwine.com/
Address: 1413 Jake Alexander Boulevard South, Salisbury, North Carolina, United States

Google Map