Costello Di Banfi Grappa
Italy, Montalcino
Web: http://www.castellobanfi.com/wines/index.php?wine=23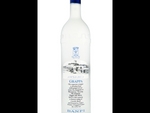 It is produced in vapour stream continuous distillation with the classical double distillation system of the fragrant Brunello di Montalcino pomace. This pomace maintains the fragrant characteristics of the wine from which it originates. The quality of the pomace and the careful production method conveys unique character to the product.
Aromatic and complex, long finish" Excellent Value - Inside Wine
Production Area: Selected Banfi vineyards in the southern hills of Montalcino.
Grape Variety: Brunello di Montalcino. The fermented pomace, after racking, isdistilled to highlight its richness and aromas.
Alcohol content: 45% vol. / Available formats: 0,70 l
A nice mid $30 bottle.
Tip: Chill grappa before drinking to bring out more of the flavors and aroma of the grape.